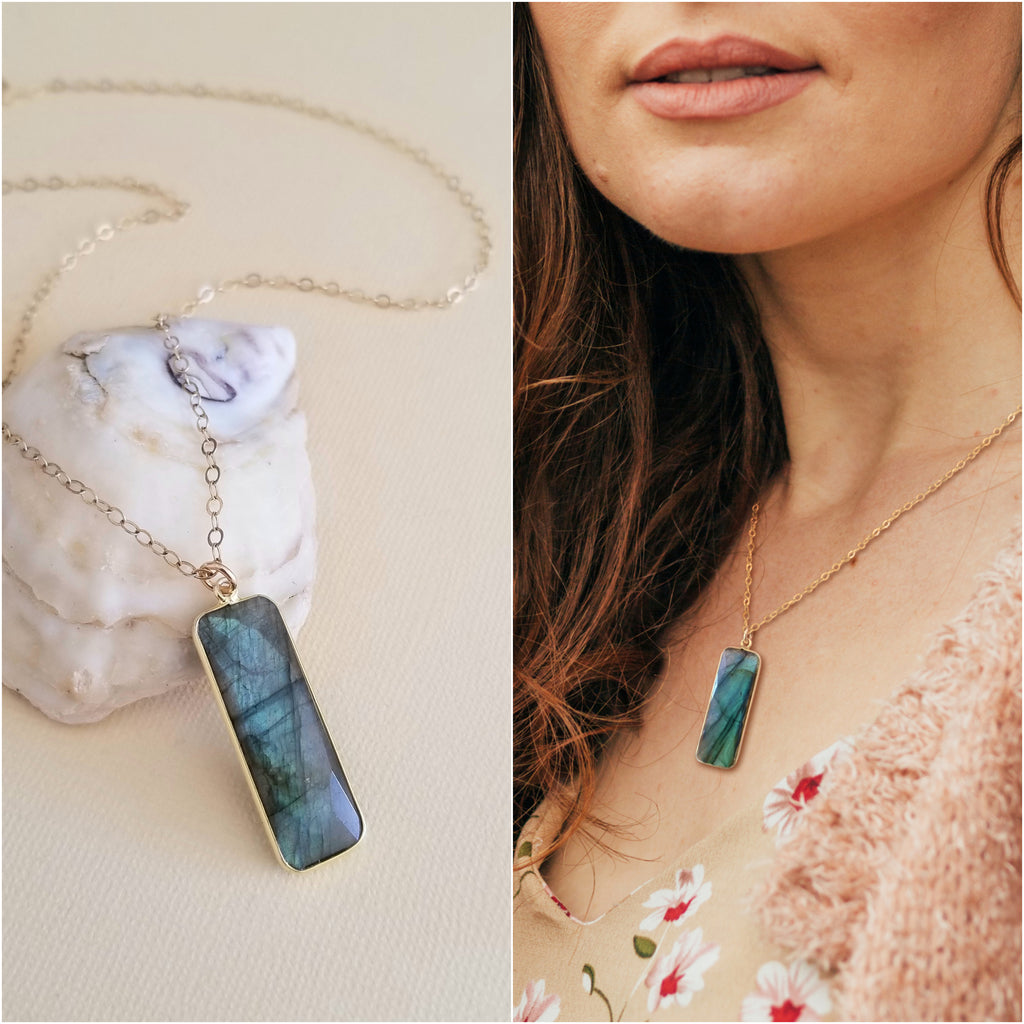 Labradorite Pendant Necklace in Sterling Silver or Gold Filled
Make a unique statement and shine with this new Labradorite necklalce. Available in Sterling Silver and Gold Filled. These finishes are genuine metals, not plated and will never chip, peel or flake off.
This necklace features a completely natural and one of a kind Labradorite rectangular shaped stone and paired with a shimmering Sterling Silver or Gold Filled chain. Chain is dainty yet strong for everyday wear. No two stones are exaclty the same so you will receive a completely unqiue piece of jewelry.
Details:
* Raw natural faceted Labradorite Rectangle Stone Size about 1 1/4 inches. Labradorite is a fascinating and ever changing color stone. When light hits Labradorite, you will get mesmerizing colors of blues, greens, grays and browns. Each stone is one of a kind, but equally gorgeous.
* Genuine 925 Sterling Silver or 14k Gold Filled Cable Chain & Components (not plated)
* Lead, Cadmium and Nickel Free
* Lovingly handcrafted from the highest quality materials to be enjoyed for a lifetime ♥
The mystical and beautiful Labradorite is a strong gemstone of protection, transformation and spirit. Labradorite has tremendous power to bring change to your life. Also known as the dreamer's stone, and its spiritual meaning centers around that. It is your portal to access higher realms of wisdom and connect with the divine. Helps remove negative energies, banishes fears, insecurities and strengthens faith in the self.
Matching Earrings found here--->
EARRINGS
**Please note, we only use 100% real natural gemstones in our designs. Natural stones will sometimes have inclusions which are in no way considered to be damaged or flawed. It's just how the stone naturally formed giving you a truly one of a kind piece of jewelry. It's the way nature made them and just the way we love them.♥
All jewelry includes complimentary gift packaging.
At Fabulous Creations, all our jewelry is handcrafted in the USA, inspired by the beauty of nature and made with love xo Shop with confidence from a company that has been shipping worldwide for over 12 years.
Stay up to date on the lastest! Be the first to know about new arrivals and get exclusive discounts.
SUBSCRIBE HERE---> https://www.fabulouscreations.org/pages/join-vip-mailing-list