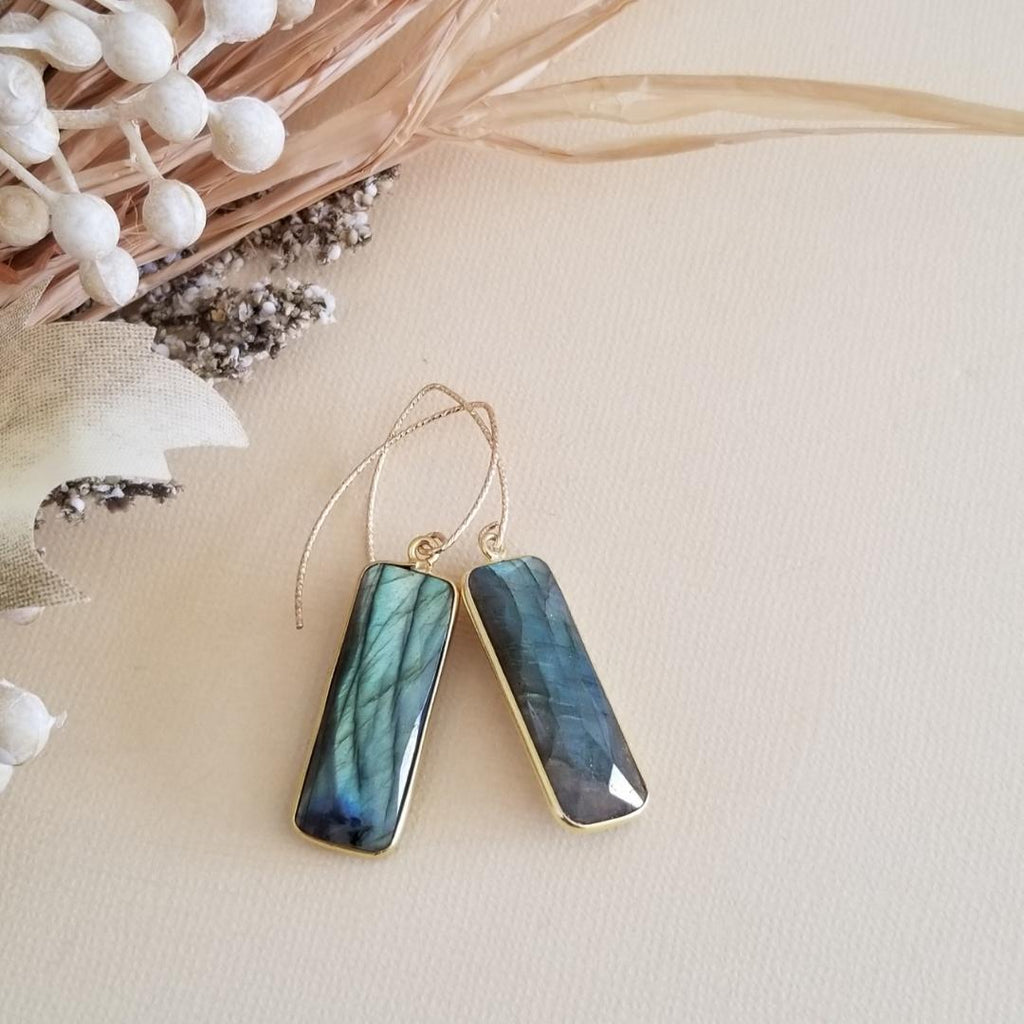 Long Labradorite Earrings, Blue Flash Labradorite Dangle Earrings
These beautiful and unique gemstone earrings feature a natural rectangular Labradorite stone. Each stone is one of a kind and has gorgeous colors of blue green and gold creating a stunning pair of earrings. Stones hang from 100% genuine Sterling Silver or 14k Gold Filled Marquise Ear Wires. (not plated). A very elegant yet timeless design that is the finishing to any outfit.
Details:
* Natural faceted bezel set Labradorite Rectangle Gemstones Stone size: About 1 1/4 inches long
* 100% Genuine 925 Sterling Silver or 14k Gold Filled Modern Marquise Ear Wires
* Earrings measure approximately 2 inches including ear wires
* Earrings make a gorgeous statement
* Great Gift Idea
Labradorite is a strong gemstone of protection, transformation and spirit. Helps remove negative energies. Banishes fears, insecurities and strengthens faith in the self. Calms the mind, relieving anxiety and stress.
**Please note, we only use 100% real natural gemstones in our designs. Natural stones will sometimes have inclusions which are in no way considered to be damaged or flawed. It's just how the stone naturally formed giving you a truly one of a kind piece of jewelry. It's the way nature made them and just the way we love them.♥
All jewelry includes complimentary gift packaging.
At Fabulous Creations, all our jewelry is handcrafted in the USA, inspired by the beauty of nature and made with love xo Shop with confidence from a company that has been shipping worldwide for over 12 years
Stay up to date on the lastest! Be the first to know about new arrivals and get exclusive discounts.
SUBSCRIBE HERE---> https://www.fabulouscreations.org/pages/join-vip-mailing-list