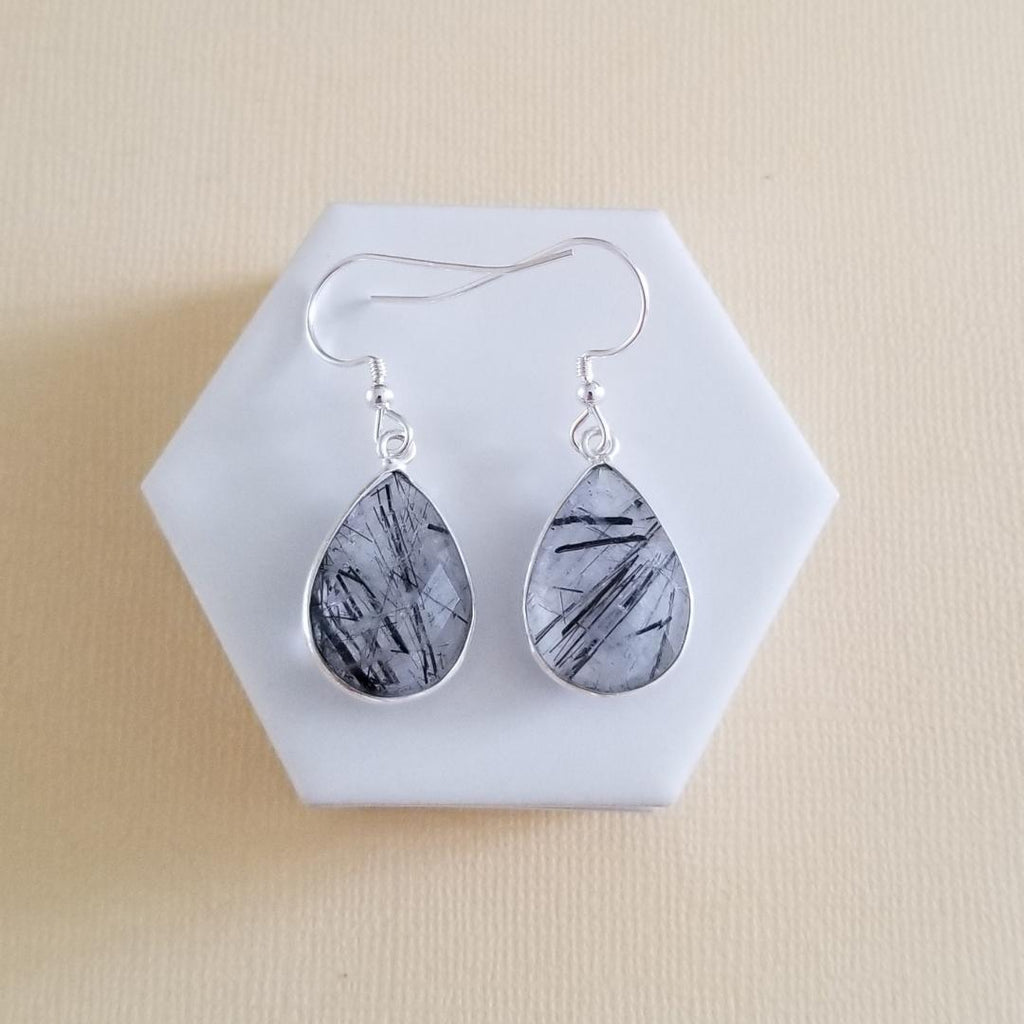 Unique Black Rutilated Quartz Teardrop Earrings
Black Rutile Quartz is a fascinating type of quartz that contains needle-like black inclusions of rutile. This crystals helps you accept challenges as it opens new ways to live. Inspires you to leave or remove anything that no longer serves you. This sacred stone dissolves negative energies. The stone that never lets you miss a chance! As it offers a clear state of mind in which you will be able to analyze properly. Black Rutile Quartz is a powerful crystal that works on enhancing your intuition and wisdom and helping you overcome life challenges with success. This potent stone also helps you to be emotionally stronger, heals past hurts, and cleanses your soul.
These completely one of a kind earrings feature raw natural Black Rutlated Quartz faceted bezel set teardrop stones that hang from genuine Sterling Silver ear wires. Earrings dangle approximately 1 1/4 inches. No two stones are exactly the same.
Earrings Details:
* Natural Black Rutilated Quartz Teardrop Stone. Stone is faceted and bezel set in Sterling Silver. Size: 18 mm
Each stone is one of a kind each having their own pattern of needle like threads going through the stones. Some stones are darker and some are lighter
* Genuine Sterling Silver Ear Wires
* Earrings hang 1 1/4 inches
* Perfect for day or night
* Makes a beautiful gift for someone special
* Lovingly handcrafted from the highest quality materials to be enjoyed for a lifetime ♥
*** Toggle Necklace found here---> TOGGLE NECKLACE
**Please note, we only use 100% real natural gemstones in our designs. Natural stones will sometimes have inclusions which are in no way considered to be damaged or flawed. It's just how the stone naturally formed giving you a truly one of a kind piece of jewelry. It's the way nature made them and just the way we love them.♥
All jewelry includes complimentary gift packaging.
At Fabulous Creations, all our jewelry is handcrafted in the USA, inspired by the beauty of nature and made with love xo Shop with confidence from a company that has been shipping worldwide for over 12 years.