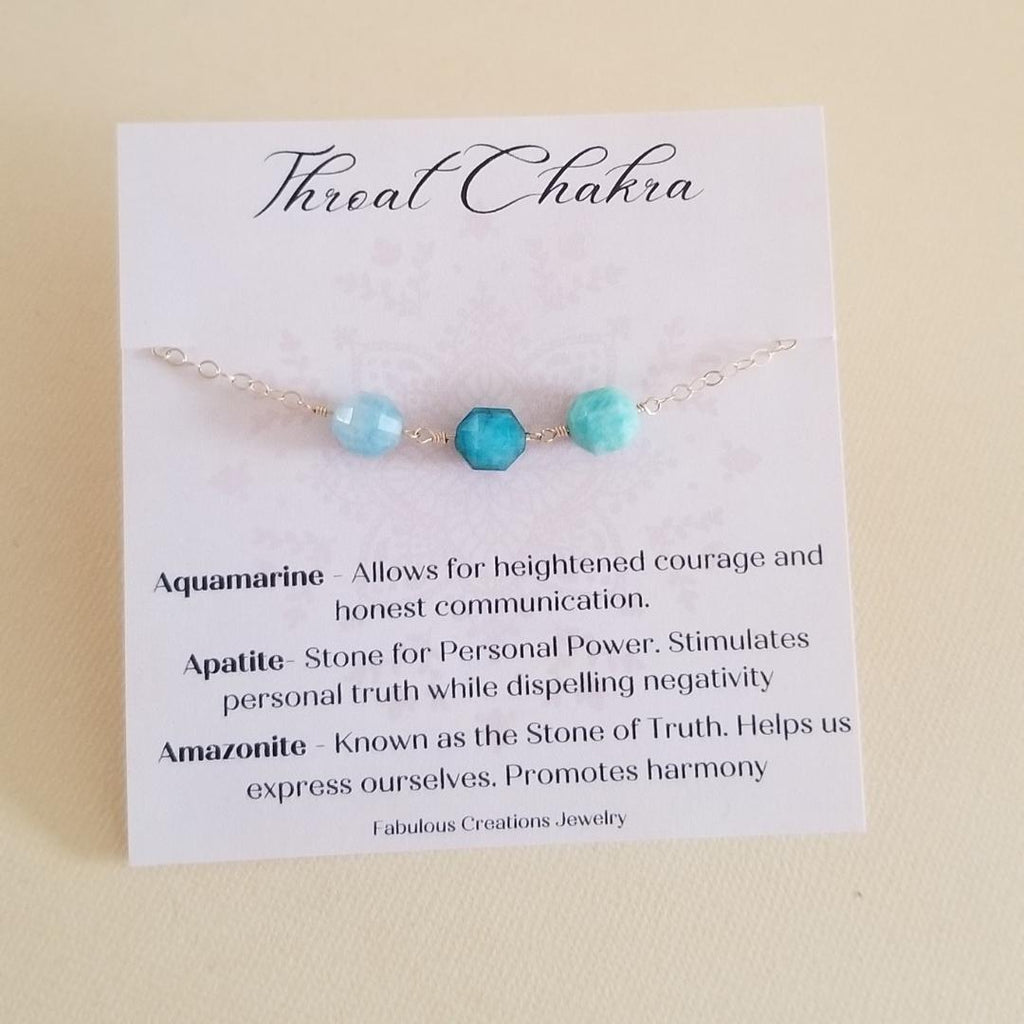 Throat Chakra Crystal Bracelet, Chakra Jewelry
The Throat Chakra is found at the base of the neck. It is the center for communication and self-expression. This chakra is associated with speaking up and expressing yourself, but also with hearing and being heard. Known as the 'soul's gate,' the throat chakra is the link between the heart and head.
This bracelet features three crystals associated with the Throat Chakra: Aquamarine, Apatite and Amazonite.
Crafted from genuine energy prism cut gemstones and joined to your choice of shimmering Sterling Silver or Gold Filled cable chain. Chain is dainty yet sturdy enough for everyday wear. Each stone is 100% natural and is approximately 6mm to 8mm in size.
Details:
* All chains and components are genuine Sterling Silver and Gold Filled (not plated, so it will never chip, peel or flake off and safe for all wearers)
* All gemstones are completely natural and will vary in size and coloring
* Perfect bracelet to wear alone or stack with other favorites
* Makes a great gift for someone (or yourself)
Aquamarine - Allows for heightened courage and honest communication.
Apatite- Stone for Personal Power. Stimulates personal truth while dispelling negativity
Amazonite - Known as the Stone of Truth. Helps us express ourselves. Promotes harmony
**Please note, we only use 100% real natural gemstones in our designs. Natural stones will sometimes have inclusions which are in no way considered to be damaged or flawed. It's just how the stone naturally formed giving you a truly one of a kind piece of jewelry. It's the way nature made them and just the way we love them.♥
About Energy Prism Gemstones: The Energy Prism stones are uniquely cut and very beautiful. The entire stone is faceted with double terminated points at the ends. This geometric cut bounces and refracts light from it's faceted surfaces. The double terminated points allow energy to freely flow, hence the name Energy Prism.
All jewelry includes complimentary gift packaging.
At Fabulous Creations, all our jewelry is handcrafted in the USA, inspired by the beauty of nature and made with love xo Shop with confidence from a company that has been shipping worldwide for over 11 years.