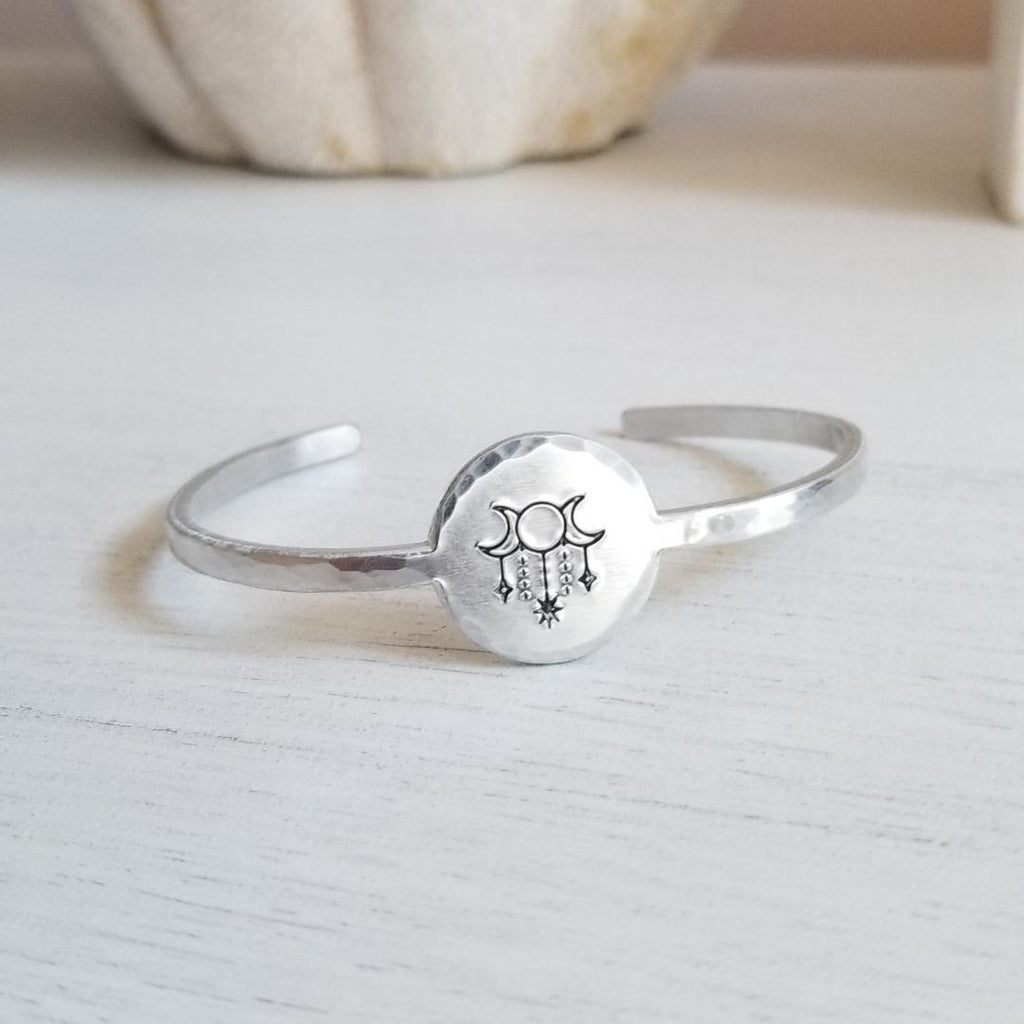 Skinny Silver Cuff Bracelet, Moon Phase Design Bracelet
Our brand new bohemian style Moon Phase cuff bracelet will quickly become a favorite! It pairs beautifully with everything!
A skinny cuff with a three quarter inch medallion in the center is hand hammered giving it that extra bit of sparkle. The center medallion is hand stamped with a unique boho moon phase design.
Together, the phases of the moon represent never ending cycles and change. From light to dark, from beginning to end, the moon goes on. The New Moon marks a good time to embark on new journeys. The Waxing Phases build into the Full Moon, which is a time of intense lunar energy and abundance. The Waning Phases come next and represent learning and the end of cycles.
Cuffs and bangle bracelets are right on trend. We create our line of cuffs and bangles with aluminum. Aluminum is a fantastic metal for jewelry.
The many benefits include:
* It will never turn your wrist green
* Non-Toxic and Hypoallergenic
* Nickel Free
* It will never tarnish
* Super Lightweight-You won't even know you're wearing it
PLEASE NOTE: The bracelets have some slight flexibility for getting it on and off and conforming to your own wrist. But we highly recommend that once you have it perfectly fit to your wrist not to continuously bend as we don't want it to weaken over time and snap.
We hope you love and enjoy your new bracelet for many years ♥
All jewelry includes complimentary gift packaging.
At Fabulous Creations, all our jewelry is handcrafted in the USA, inspired by the beauty of nature and made with love xo Shop with confidence from a company that has been shipping worldwide for over 10 years
Skinny Silver Cuff Bracelet, Moon Phase Design Bracelet