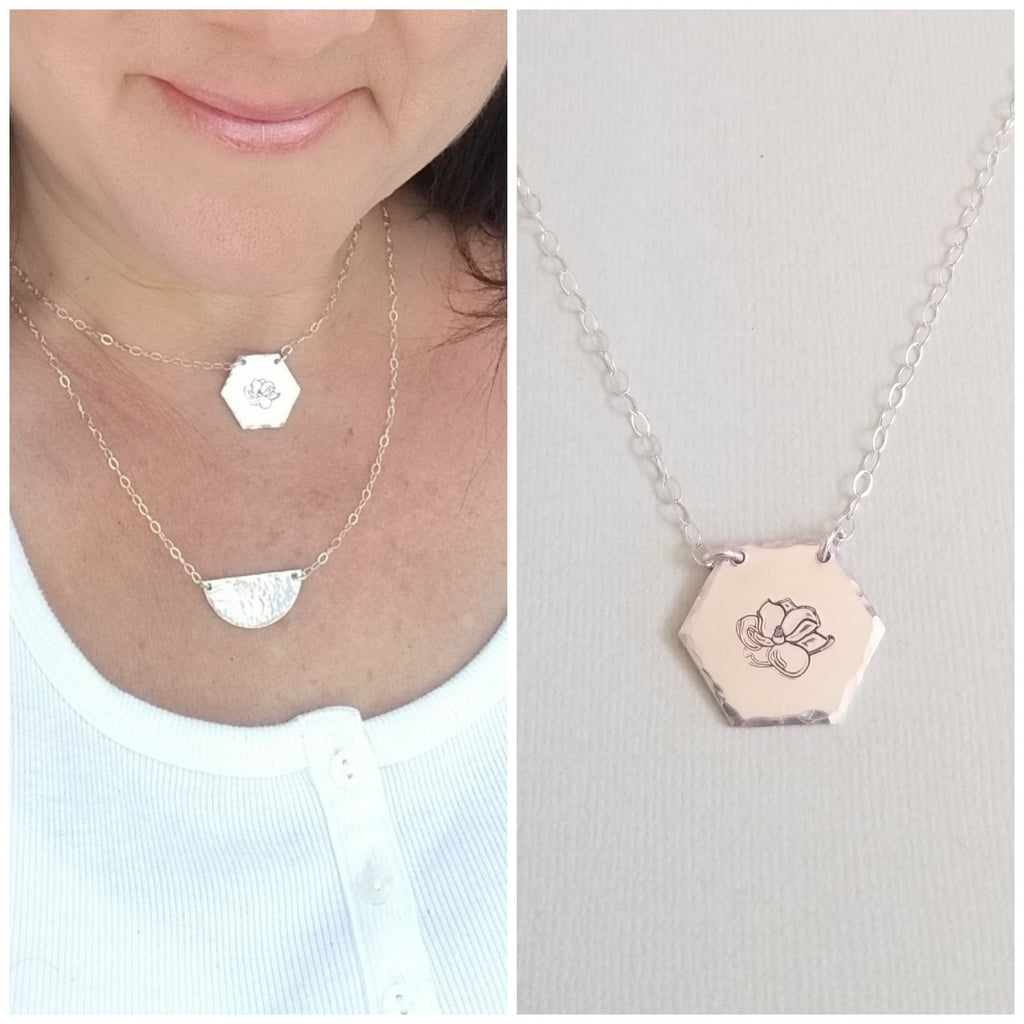 Silver Flower Pendant Necklace, Hand Stamped Flower Necklace
See what's blooming! Our beautiful floral necklaces are a piece you'll love to wear and love to give.

Shimmering Sterling Silver cable chain is joined to a modern hexagon shape pendant that has been lightly hammered on the edges giving it a beveled texture and hand stamped with a gorgeous flower blossom of your choice in the center. Solid lobster claw clasp.

Details:

* An Aluminum Hexagon Pendant Size about 22 mm
Aluminum is great for jewelry as it is non-toxic, super light-weight, hypoallergenic and never tarnishes.

* Genuine Sterling Silver chain and components (Not plated, will never chip, peel or flake off)

* Your choice of flower blooms (see chart)

* A great everyday necklace and makes a wonderful gift for a special woman


About Each Flower:

The Magnolia flower is symbolic of nobility, perseverance, and love of nature. The Magnolia flower's beauty is undeniable and represents feminine beauty. Wear this necklace as a reminder of your own beauty.


The Lily flower is symbolic of fresh new life and rebirth. An innocent beauty associated with love, devotion, purity and fertility.

The Gladiolus flower is a symbol of faithfulness, integrity and honesty. They can also represent internal strength and the ability to overcome life's challenges. It is also the birth flower for August.

The Fressia flower is symbolic of friendship, trust, thoughtfulness and innocence. Also a flower of joy, renewal and motherly love.

The Daffodil flower is symbolic of new beginnings, rebirth and hope. The first to bloom after Winter, they signify new life, resilience & overcoming obstacles. Cheerful flowers that are symbols of positivity, joy and an appreciation of life.



Every order includes our complimentary gift packaging.

At Fabulous Creations, all our jewelry is handcrafted in the USA, inspired by the beauty of nature and made with love xo Shop with confidence from a company that has been shipping worldwide for over 10 years.