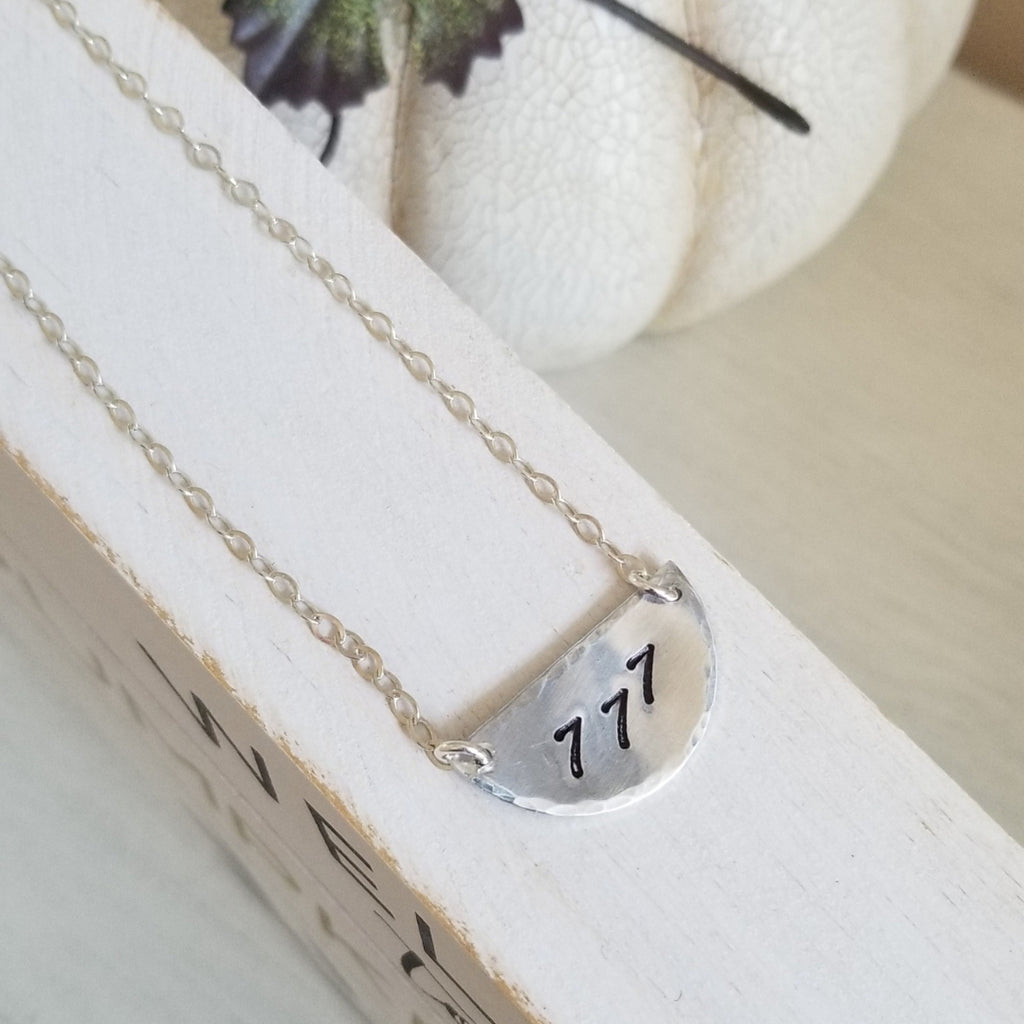 Silver Angel Number Necklace, Spiritual Numerology Jewelry
Angel Numbers are repeating sequences of numbers that seem to show up out of nowhere. They are a form of numerology. They may appear on clocks, license plates, check out receipts or phone numbers. You keep seeing the same three numbers and may think it's a coincidence, but they hold a very powerful message that the universe thinks you need to hear. It's your guadian angels or spirit guides trying to communicate with you. Each sequence of numbers holds its own special meaning and each is bound to a spiritual message. So start keeping your eyes open to receiving any messages that could be coming your way.
We are happy to now be offering these meaningful Angel Number Necklaces.
Each necklace features an aluminum half moon that is hand hammered on the edges and hand stamped with the three numbers that resonates with your spirit. The half moon is joined to shimmering Sterling Silver chain in your choice of length. This necklace looks beautiful worn on it's own but also a great piece to layer with other favorite pieces and gemstone.
Necklace Details:
   * Aluminum Half Moon that is hand hammered on the edges. Aluminum is great for        jewelry as it is non-toxic, hypoallergenic, super light-weight and never tarnishes
   * Genuine Sterling Silver Chain and Clasp
   * Each Half Moon measures about one inch across
   * Beautiful piece that can be worn everyday
   * Meaningful Gift for birthdays and holidays
Hand Stamped Jewelry

Each piece is hand hammered. So no two pieces will ever be exactly alike. Sometimes letters/numbers won't be perfectly lined up (but I do try my very best) but it all lends to the unique beauty and charm of hand made. ♥


All jewelry includes complimentary gift packaging.

At Fabulous Creations, all our jewelry is handcrafted in the USA, inspired by the beauty of nature and made with love xo Shop with confidence from a company that has been shipping worldwide since 2010.