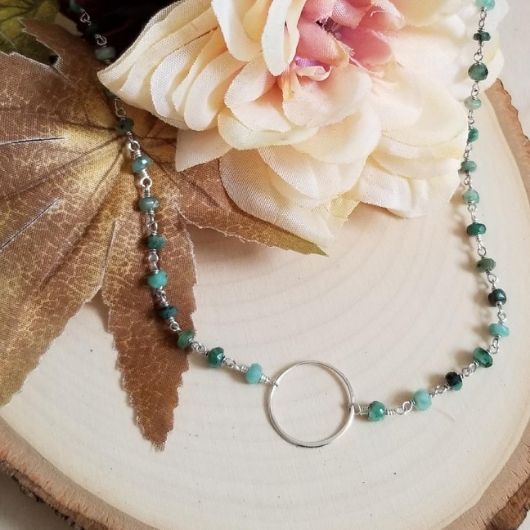 Raw Emerald Eternity Necklace
The circle can represent the power of the female, of infinity and being complete. It is also a symbol of forever.....a forever love, bond or friendship.
Wear or gift this symbolic necklace that is handcrafted from natural raw Emeralds and joined to a Sterling Silver circle. It makes a beautiful statement on it's own and compliments every style. A timeless design that will be worn for many years to come.
Please choose your preferred length from drop down box.
**Please note, we only use 100% real natural gemstones in our designs. Natural stones will sometimes have inclusions which are in no way considered to be damaged or flawed. It's just how the stone naturally formed giving you a truly one of a kind piece of jewelry. It's the way nature made them and just the way we love them.♥


All jewelry includes complimentary gift packaging.

At Fabulous Creations, all our jewelry is handcrafted in the USA, inspired by the beauty of nature and made with love xo Shop with confidence from a company that has been shipping worldwide for over 12 years.

Stay up to date on the lastest! Be the first to know about new arrivals and get exclusive discounts.
SUBSCRIBE HERE---> https://www.fabulouscreations.org/pages/join-vip-mailing-list