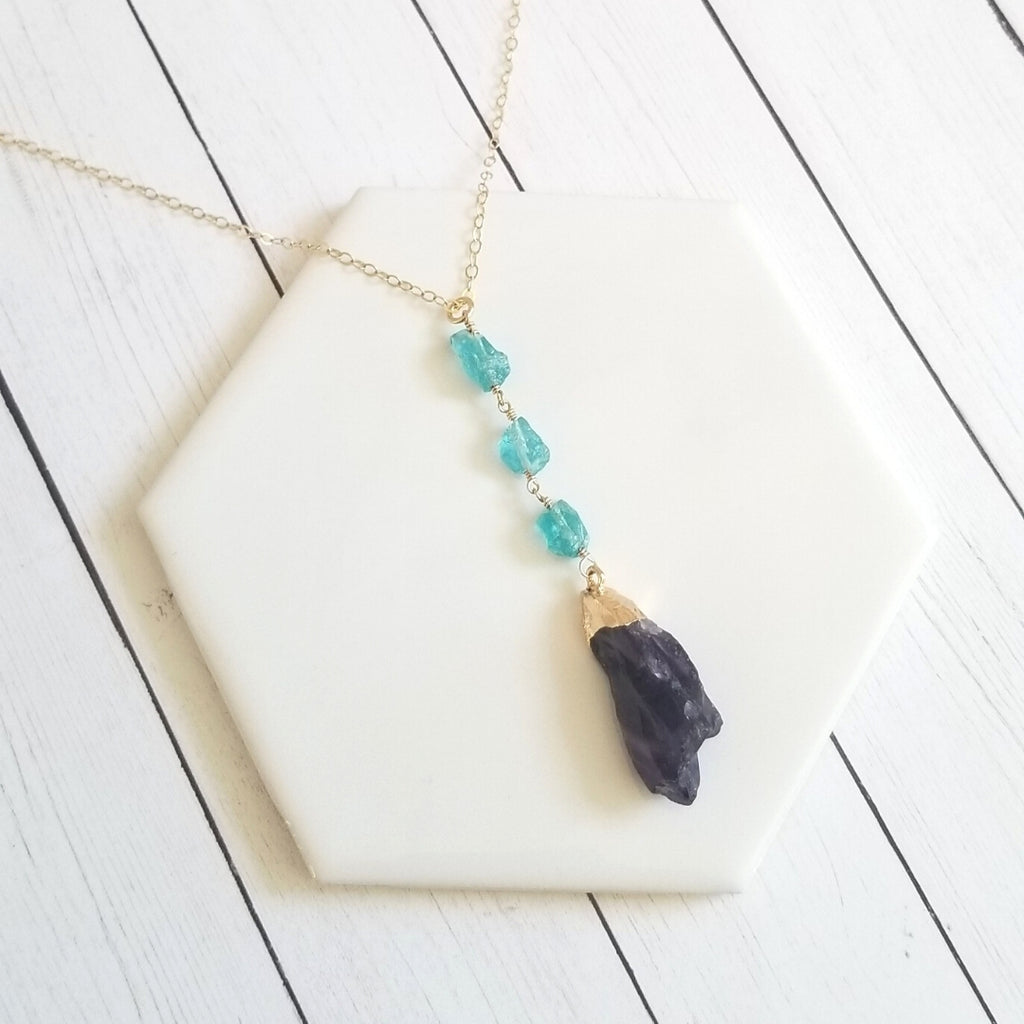 Raw Crystal Necklace, Apatite and Amethyst Pendant Necklace
A beautiful display of two powerful crystals, Apatite and Amethyst.
A dramatic long center drop pendant with the vibrant blue of Apatite paired with the deep dark purple of Amethyst.
Natural raw rough cut Apatite stones are hand wire wrapped together and joined to a raw Amethyst crystal. This long unique pendant is suspended from shimmering genuine Gold Filled cable chain in your choice of length. Solid lobster claw clasp.
Please note, when selecting your desired length it is for the part that goes around the neck. The center drop is approximately an additional 3 inches.
Necklace Details:
* Raw rough cut Apatite stones that measure about 10 to 12 mm
* Raw rough Amethyst stone that is an average substantial size of 1 1/2 inches
* Genuine Gold Filled Chain and Components (Not plated)
* Modern boho style
* Lovingly handcrafted from the finest materials to be enjoyed for a lifetime
Please Note: **All our gemstones are 100% natural and may have some minor inclusions. They are in no way considered flaws. It's just the way nature made them and just the way we love them.♥
Apatite, is a stone of manifestation. This stone will connect you to a higher level of spiritual guidance. It will restore the balance in your physical, emotional, mental, and spiritual bodies and chakras. It will also increase your motivation to succeed and achieve your goals.
Amethyst, considered the most powerful and protective stone. It's a spiritual stone promoting tranquility and peace. A great meditation stone that calms mind, body and spirit. Deeply connected to the third eye chakra, the center of spirituality and intuition, and the crown chakra, the chakra that governs our connection to the universe.
All jewelry includes complimentary gift packaging.
At Fabulous Creations, all our jewelry is handcrafted in the USA, inspired by the beauty of nature and made with love xo Shop with confidence from a company that has been shipping worldwide for over 10 years.