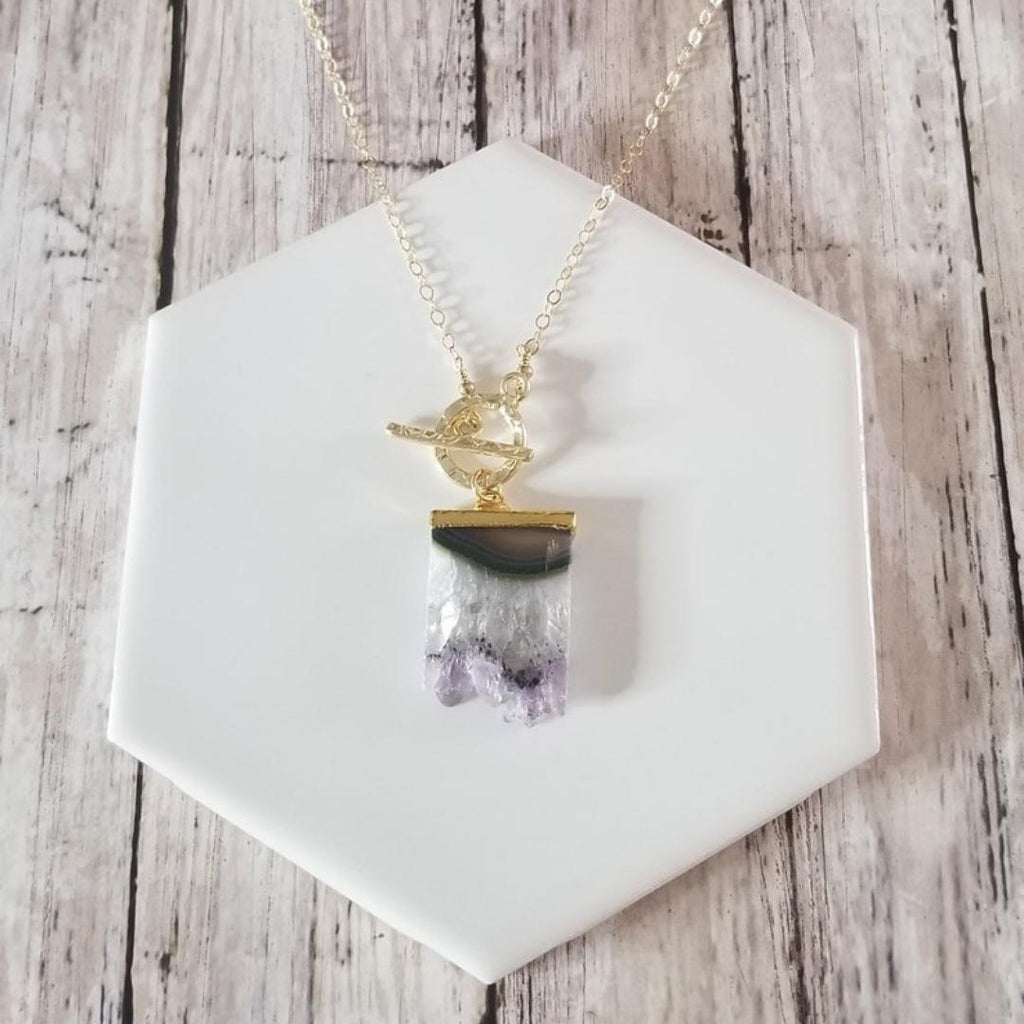 Raw Amethyst Crystal Slice Necklace, Gold Front Toggle Necklace
This completely one of a kind crystal necklace, features a gorgeous raw Amethyst Crystal slice that is presented on a modern front toggle clasp. Shimmering Gold Filled chain in your choice of length completes this truly unique piece of jewelry you'll love wearing. You will receive this exact necklace shown. Only 1 available!
Known for creating an ambience of soothing vibrations within, amethyst stalactite slices emit the energy of calm in every direction. Points are believed to focus the energy of a stone into a specific direction. The Amethyst crystal properties are deeply connected to the third eye chakra, the center of spirituality and intuition, and the crown chakra, the chakra that governs our connection to the universe. These energy centers can be associated with the color purple, which helps to explain why Amethyst crystal is such a powerful stone to balance, open, and activate the third eye and crown chakras. This calming stone allows you to quiet your mind, which can aid in sleep, meditation, and generally moving through life from a higher state of being. No matter who you are or what your goals are in life, an Amethyst crystal can support you along your life's journey.
Details
* One of a kind raw Amethyst Crystal Slice Pendant
* Genuine Gold Filled Chain (not plated)
* Modern front toggle style. Toggle is 14k real gold plated over brass, with an anti-tarnishing coat
**Please note, we only use 100% real natural gemstones in our designs. Natural stones will sometimes have inclusions which are in no way considered to be damaged or flawed. It's just how the stone naturally formed giving you a truly one of a kind piece of jewelry. It's the way nature made them and just the way we love them.♥
All jewelry includes complimentary gift packaging.
At Fabulous Creations, all our jewelry is handcrafted in the USA, inspired by the beauty of nature and made with love xo Shop with confidence from a company that has been shipping worldwide for over 11 years.