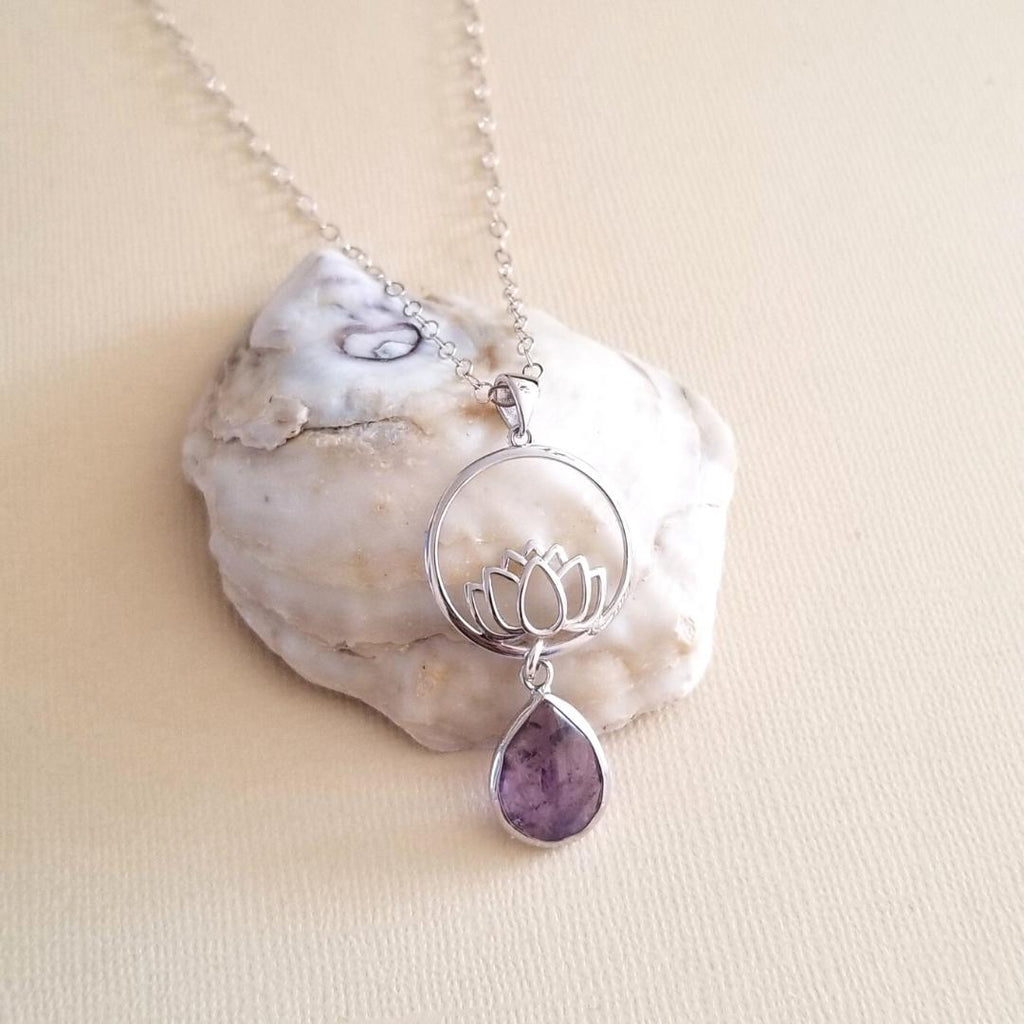 Lotus Flower and Amethyst Pendant Necklace
The Lotus Flower begins in murky waters and rises up into a beautiful blossom. The Lotus is a symbol of purity, divine beauty, resurrection, and enlightenment.
Amethyst the stone for February is a spiritual stone promoting tranquility and peace. A meditation and protection stone assisting in calming the mind, body and spirit. ♥
This inspirational necklace features an open work eternity circle with a Lotus Blossom within and accented with a genuine Amethyst teardrop. Shimmering Sterling Silver chain completes this piece in your choice of length. Entire necklace is crafted in genuine 925 Sterling Silver (not plated, so you never need to worry about peeling, chipping or flaking)
Details:
* Solid Sterling Silver Lotus Flower Pendant Size about 1 inch including bail
* Genuine Sterling Silver Cable Chain and Clasp (not plated and safe for all wearers)
* A 100% Natural Faceted Amethyst stone Size: About 14 mm
* Pendant Size is apprioximately 1 3/4 inches
* Makes a beautiful gift
* Inspirational Piece
* Crafted from the highest quality metals and gems
**Please note, we only use 100% real natural gemstones in our designs. Natural stones will sometimes have inclusions which are in no way considered to be damaged or flawed. It's just how the stone naturally formed giving you a truly one of a kind piece of jewelry. It's the way nature made them and just the way we love them.♥
All jewelry includes complimentary gift packaging.
At Fabulous Creations, all our jewelry is handcrafted in the USA, inspired by the beauty of nature and made with love xo Shop with confidence from a company that has been shipping worldwide for over 12 years.
Stay up to date on the lastest! Be the first to know about new arrivals and get exclusive discounts.
SUBSCRIBE HERE---> https://www.fabulouscreations.org/pages/join-vip-mailing-list