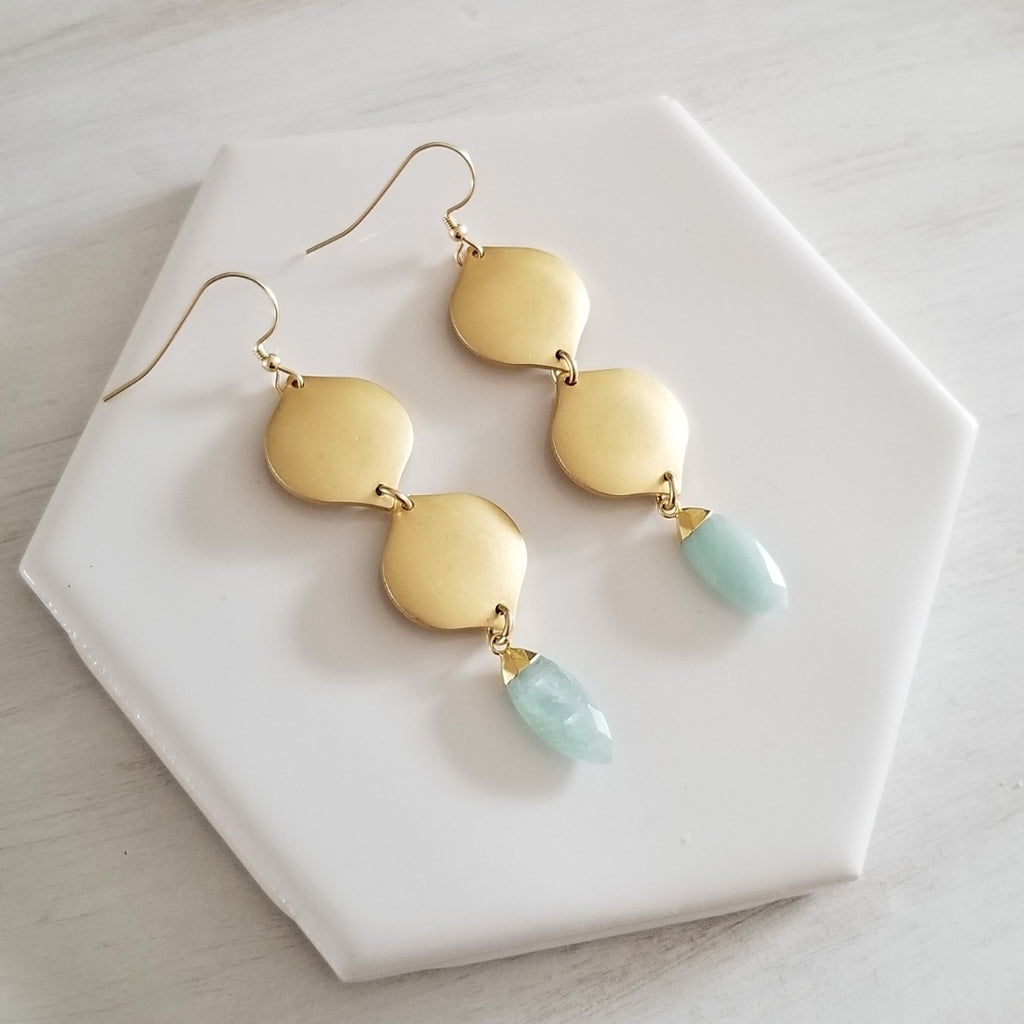 Long Gold Teardrop Aquamarine Earrings, Statement Earrings
Dramatic long gold teardrops with an Aquamarine will definitely stand out and make a statement.
Earrings feature brass droplets that resemble petals. Two petals are paired with a dreamy Aquamarine stone. Earrings measure approximately 3 inches long including ear wires.
Earring Details:
* Brass Droplets that resemble petals are each about 22mm in size. They have a Non-Tarnish Coating
* Natural faceted Aquamarine stone Size about 18mm
* Ear Wires are genuine 14 k Gold Filled (not plated)
* Earrings dangle approximately 3 inches in length
* Earrings are bold and will make a unique statement
* Lightweight for all day and night wear
* Earrings easily take you from day to evening
* Makes a beautiful gift for someone special
Aquamarine is a crystal that enhances courage and intuition. Aquamarines are mainly used as a soothing stone, to relieve stress. Because of its connection with water it is used to cleanse the body and a great meditation stone.
**Please note, we only use 100% real natural gemstones in our designs. Natural stones will sometimes have inclusions which are in no way considered to be damaged or flawed. It's just how the stone naturally formed giving you a truly one of a kind piece of jewelry. It's the way nature made them and just the way we love them.♥
All jewelry includes complimentary gift packaging.
At Fabulous Creations, all our jewelry is handcrafted in the USA, inspired by the beauty of nature and made with love xo Shop with confidence from a company that has been shipping worldwide since 2010.