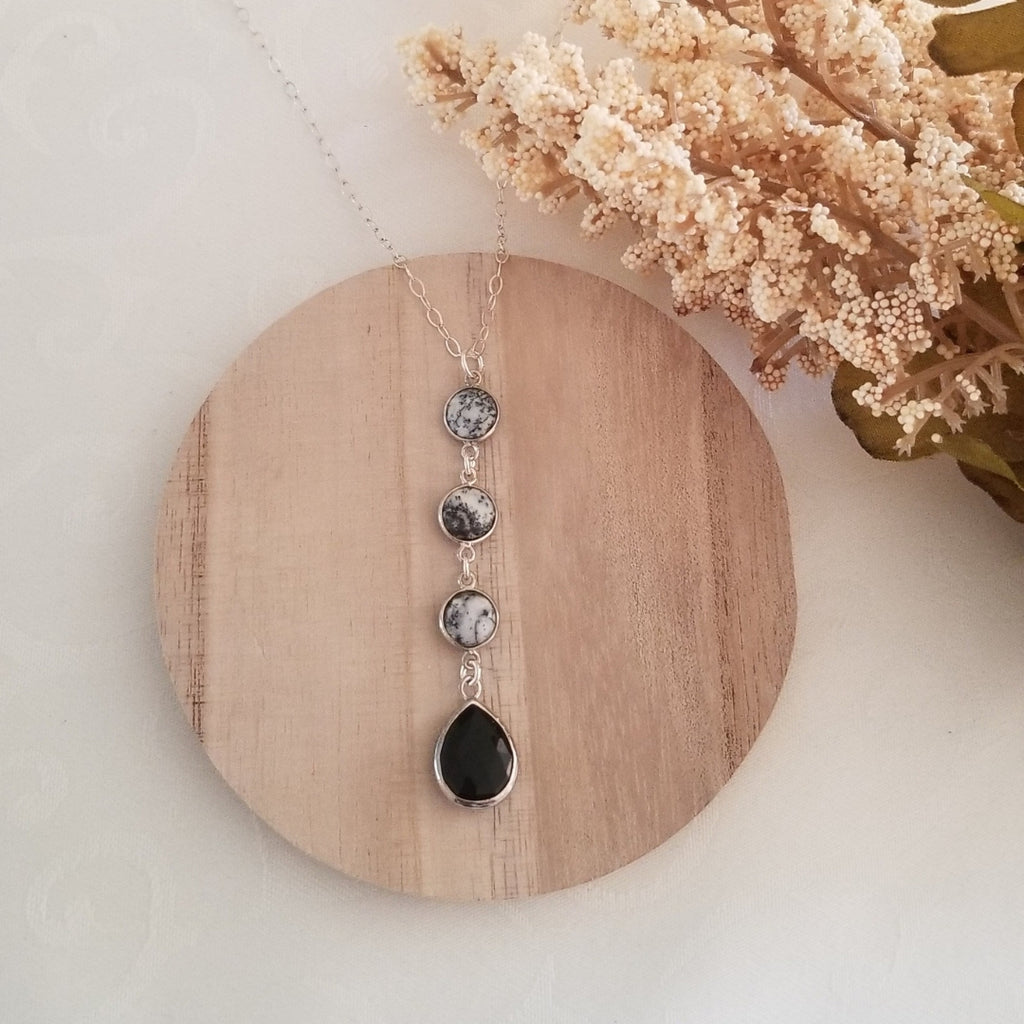 Dendritic Opal and Black Onyx Pendant Necklace, Boho Onyx Y Necklace
Two powerful energies combined into one fabulous necklace.
The Dendrite Opal belongs to the agate family and is considered as a Stone of Plenitude that offers the fullness and abundance in one's life. The energies of this stone are quite passionate and vibrant, yet caring and gentle.
Onyx is a balancing, grounding stone, particularly black onyx. It is thought to help stimulate the root chakra. Onyx helps to reduce the intensity of emotions, whether negative or positive. It is associated with good fortune and judgment. Onyx, is a great stone to wear if you are setting out on a new journey and require strength and commitment.
A beautiful center drop of natural Dendritic Opals and a dramatic black Onyx teardrop at the tip. This unique black and white pendant is suspended from shimmering Sterling Silver chain in your choice of length. Solid lobster claw clasp.
Details:
* Natural Faceted Bezel Set Dendritic Opals: Three Round Stones 9 mm
* Natural faceted bezel set Black Onyx teardrop Size about 14 mm
* Genuine 925 Sterling Silver Cable Chain and Lobster Clasp (not plated)
* A unique statement necklace that pairs beautifully with any style
* Timeless Black and White Gemstones
* Handcrafted from high quality materials to last a lifetime
**Please note, we only use 100% real natural gemstones in our designs. Natural stones will sometimes have inclusions which are in no way considered to be damaged or flawed. It's just how the stone naturally formed giving you a truly one of a kind piece of jewelry. It's the way nature made them and just the way we love them.♥
All jewelry includes complimentary gift packaging.
At Fabulous Creations, all our jewelry is handcrafted in the USA, inspired by the beauty of nature and made with love xo Shop with confidence from a company that has been shipping worldwide for over 11 years