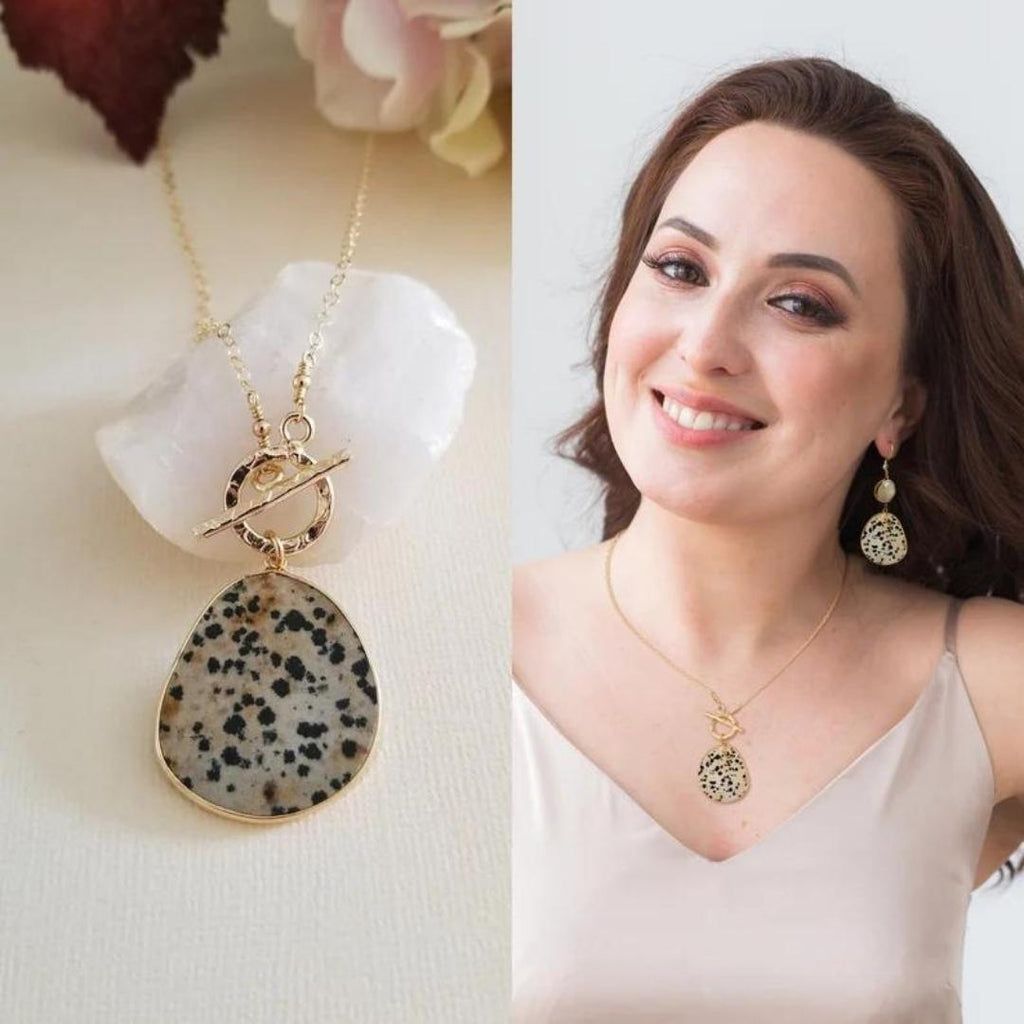 Dalmation Jasper Front Toggle Necklace
This modern unique Dalmation Jasper stone pendant is approximately 1 to 1 1/4 inch in size and is completely natural and one of a kind. Pendant hangs from a front gold toggle clasp that is joined to shimmering Gold Filled chain. Gold Filled chain is not plated so it will never chip, peel or flake and is nickel free and safe to wear everyday.

Necklace Details:

* A completely natural Dalmation Jasper stone

* Genuine Gold Filled Chain (not plated)

* Modern front toggle style. Toggle is 14k real gold plated over brass, with an anti-tarnishing coat

* This is a completely one of a kind piece of jewelry designed to be enjoyed for many years to come.


This type of Jasper is a combination of Feldspar and Quartz. It gets it's name from the resemblance of the iconic Dalmation Dog. Dalmatian Jasper is often referred to as the stone of joy and can help you release anger or feelings of hurt. It is believed to encourage emotional harmony and also allows us to connect with our own inner child to immerse ourselves fully in the positive aspects of life. The dark spots are caused by Tourmaline deposits, which adds the energy of spiritual grounding and psychic protection to this stone.


Please Note: **We only use 100% real and natural gemstones that may have some minor inclusions. They are in no way considered flaws or damages. It's just the way nature made them and just the way we love them.♥



All jewelry includes complimentary gift packaging.

At Fabulous Creations, all our jewelry is handcrafted in the USA, inspired by the beauty of nature and made with love xo Shop with confidence from a company that has been shipping worldwide for over 12 years.
Stay up to date on the lastest! Be the first to know about new arrivals and get exclusive discounts.
SUBSCRIBE HERE---> https://www.fabulouscreations.org/pages/join-vip-mailing-list