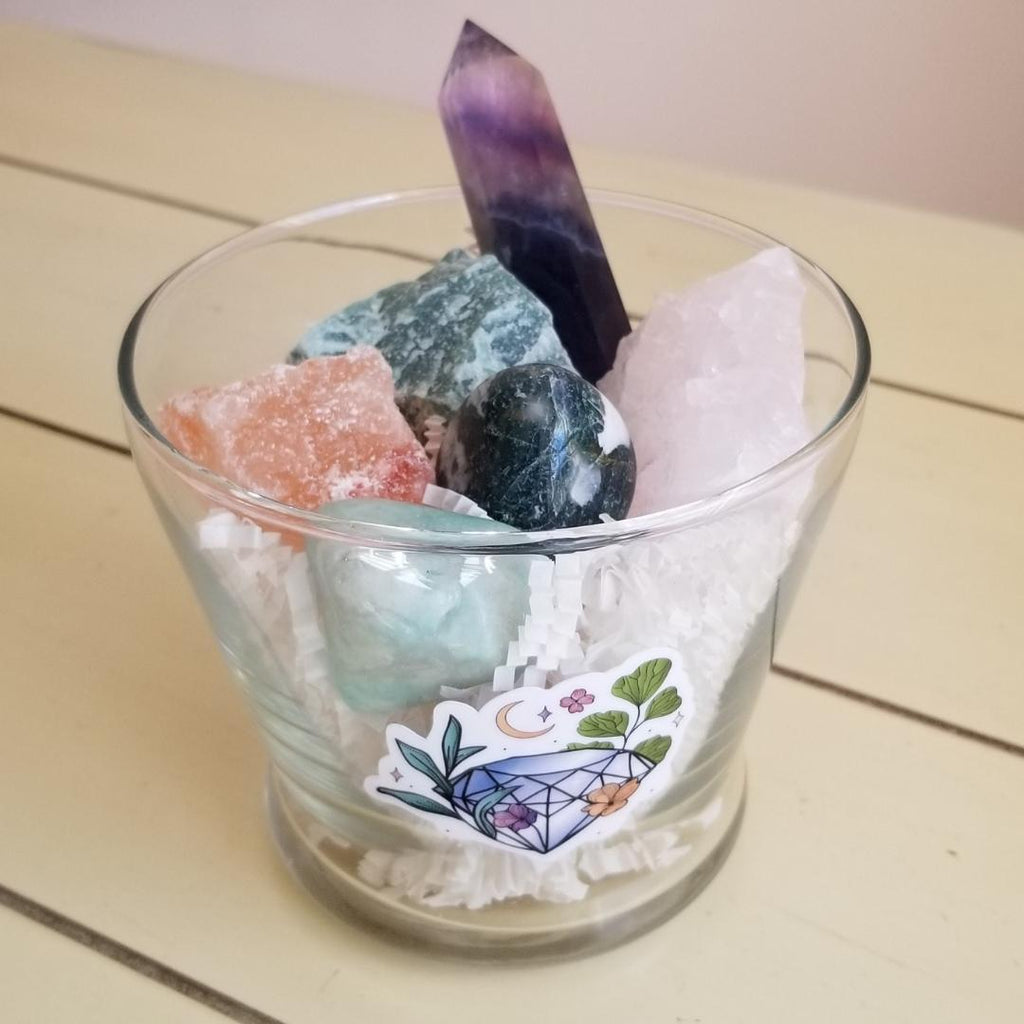 Crystal Urn Set
Give someone or yourself a gift of positive energy! ♥
This cute Crystal Set includes the following:
   * Rainbow Fluorite Tower (Between 2 1/2 and 3 inches) 
A highly sought after stone because of it's beauty. It is used to induce peace of mind and calmness. Making it a popular stone that is used in meditation. Fluorite absorbs negative energies from the environment and is a highly protective and stabilizing stone. Useful for grounding and harmonizing spiritual energy.
   * Raw Rough Rose Quartz Chunk
A crystal of unconditional love and compassion. Known as the Stone of Love, Rose Quartz is all about the heart. A calming stone that helps reduce stress. The healing properties of Rose Quartz are typically attached to joy, abundance, love, and also energy. Rose Quartz is connected with the feminine divine, meaning that it carries the aura of compassion and peace
   * Raw Rough Aventurine Chunk
Aventurine is a type of Quartz known for its unique glitter. This stone is closely related to balance, tranquility, confidence, creativity, prosperity, calmness and opportunity. Associated with the heart chakra, Aventurine is often called the 'heart healer'. Aventurine is genuinely a crystal for the spirit. Enrich your soul with its magnificent effects.
   * Smooth Tree Agate
Tree Agate brings a sense of peace and inner tranquility. This makes it an excellent meditation stone
   * Smooth Amazonite
Called the Stone of Courage, Peace and Truth. Amazonite empowers one to search the self and discover one's own truths. This crystal provides flowing energies of calm and positivity. Amazonite also empowers and strengthens any intention that may be set in it. This unique mineral helps in manifesting a path to our biggest dreams and desires.
   * Raw Rough Orange Calcite
Orange Calcite is an incredibly energizing and cleansing stone. It is an excellent stone to choose to balance the emotions and release feelings of fear and anxiety.
   * 4 inch Glass Urn that is perfect to keep your crystals in, use for flowers or a candle
**Please note, we only use 100% real natural gemstones in our designs. Natural stones will sometimes have inclusions which are in no way considered to be damaged or flawed. It's just how the stone naturally formed giving you a truly one of a kind piece of jewelry. It's the way nature made them and just the way we love them.♥




At Fabulous Creations, all our jewelry is handcrafted in the USA, inspired by the beauty of nature and made with love xo Shop with confidence from a company that has been shipping worldwide for over 11 years.