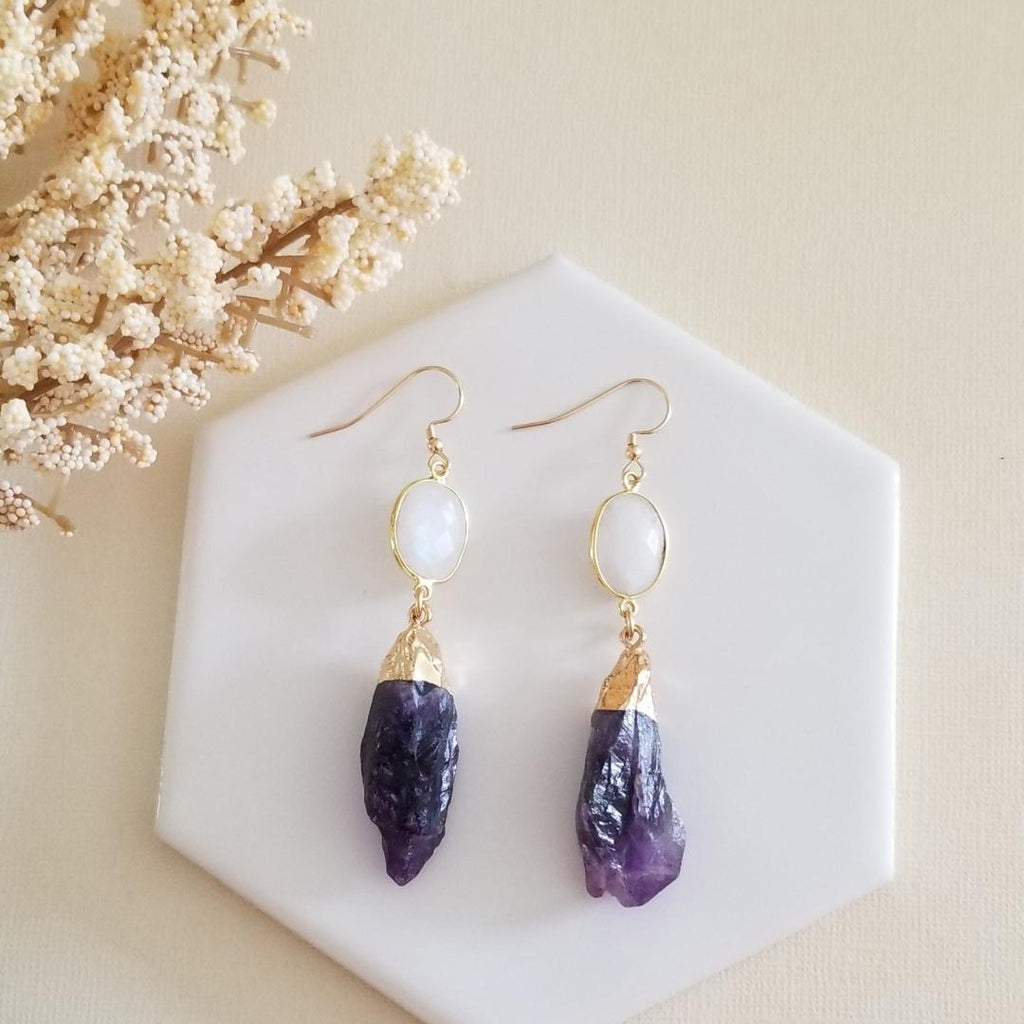 Bohemian Amethyst and Moonstone Dangle Earrings, Long Crystal Earrings
 Modern Bohemian Raw Crystal Earrings! Limited Style!

Make a unique statement in these one of a kind raw Amethyst and Moonstone dangling earrings. Earrings feature a raw Amethyst that is paired with a faceted bezel set Moonstone and hang from genuine 14K Gold Filled Ear Wires (not plated and safe for all wearers). Earrings measures approximately 3 inches.
*You will receive this exact pair of earrings*

Amethyst, considered the most powerful and protective stone. It's a spiritual stone promoting tranquility and peace. A great meditation stone that calms mind, body and spirit. Deeply connected to the third eye chakra, the center of spirituality and intuition, and the crown chakra, the chakra that governs our connection to the universe.

Moonstone helps channel one's feminine side. Moonstone is all about healing, empowering, and rediscovering one's inner self and can be attributed to new beginnings. A stone that focuses on love, good fortune & protection. It exudes a glowing vitality that can re-energize the mind and body. Helps wash away negativity.

**Please note, we only use 100% real natural gemstones in our designs. Natural stones will sometimes have inclusions which are in no way considered to be damaged or flawed. It's just how the stone naturally formed giving you a truly one of a kind piece of jewelry. It's the way nature made them and just the way we love them.♥


All jewelry includes complimentary gift packaging.

At Fabulous Creations, all our jewelry is handcrafted in the USA, inspired by the beauty of nature and made with love xo Shop with confidence from a company that has been shipping worldwide for over 11 years.