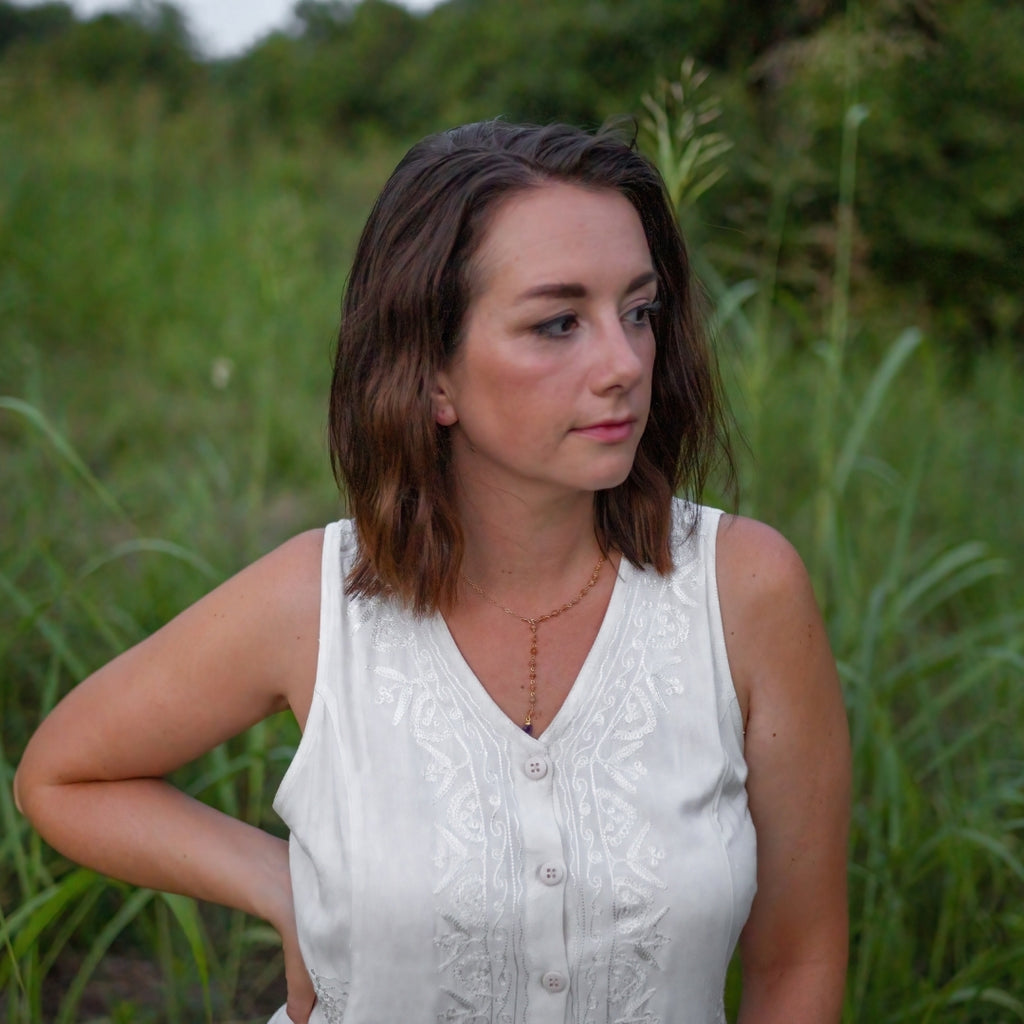 Beaded Y Necklace, Carnelian and Raw Amethyst Boho Necklace
This trendy center drop y necklace is the perfect finishing touch to any outfit.
We've paired warm Carnelian or Peach Moonstone with a vibrant raw purple Amethyst. A stunning combination of both color and energies.
Dainty beaded Carnelian or Peach Moonstone (your choice) stones form a dramatic Y and joined to shimmering Gold Filled chain. At the tip of the center drop is a natural raw rough Amethyst nugget. A necklace that makes a unique statement all on it's own but also perfect for layering with a cute choker. Solid Gold Filled lobster claw clasp.
Your choice of length. Please note: when selecting length, it is for the part that goes around your neck, the center drop is an additional 3 inches.
Details
* Natural tiny Peach Moonstone or Carnelian beaded rosary chain
* Genuine Gold Filled Chain and Components (not plated)
* 100% Natural Raw Amethyst in it's most organic form Size about 10 mm
* Modern Y style
Carnelian is the stone of creativity, individuality and courage. It is a stone of protection and brings good luck! Carnelian offers a joyful energy that transmits warmth, happiness and security.
Peach Moonstone: This is stone is all about restoring the emotional equilibrium we need in our daily life. A feminine energy stone that helps calm emotions. Support the heart, as it stimulates the mind, relieves worry or anxiety, and brings out the best in people.
Amethyst the stone for February is a spiritual stone promoting tranquility and peace. A meditation and protection stone assisting in calming the mind, body and spirit.
Please Note: **All our gemstones are 100% natural and may have some minor inclusions. They are in no way considered flaws. It's just the way nature made them and just the way we love them.♥
All jewelry includes complimentary gift packaging.
At Fabulous Creations, all our jewelry is handcrafted in the USA, inspired by the beauty of nature and made with love xo Shop with confidence from a company that has been shipping worldwide for over 10 years.