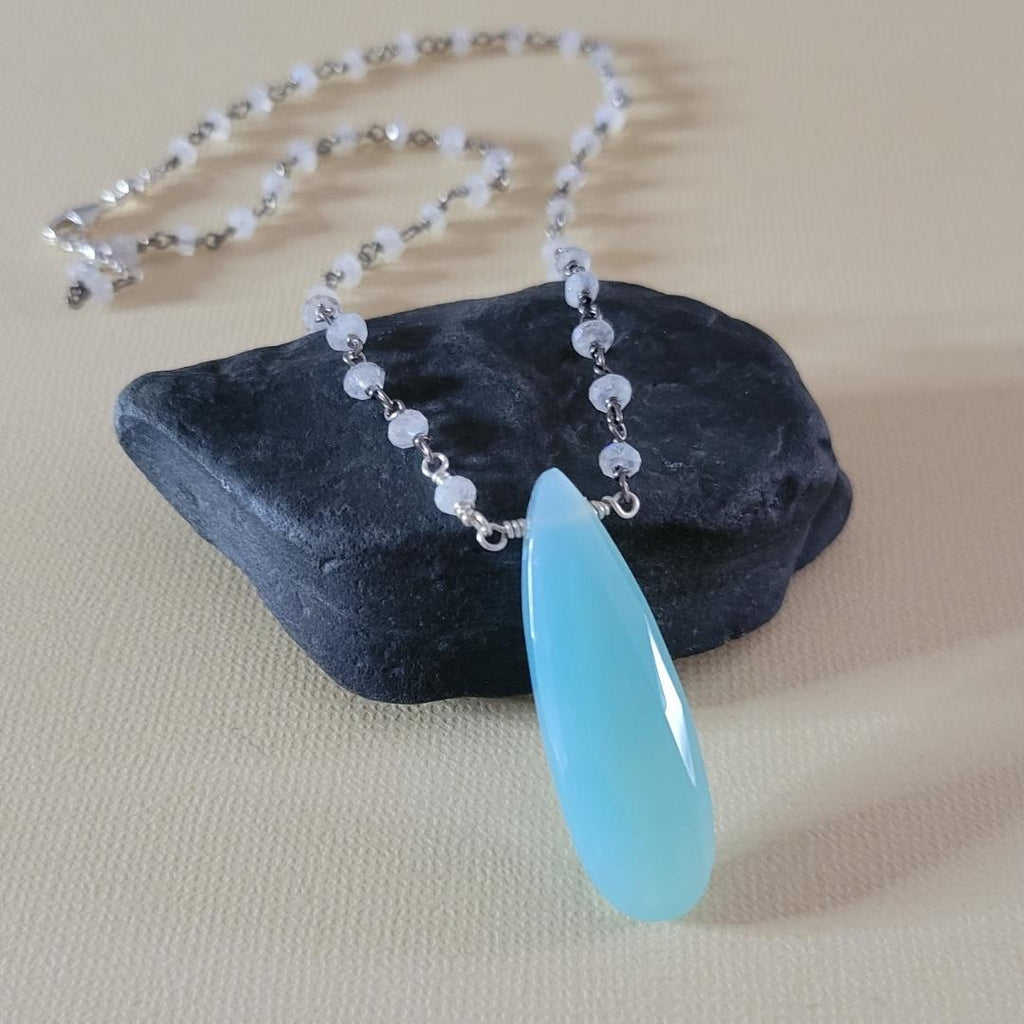 Aqua Chalcedony and Moonstone Necklace, Bohemian Beaded Chain Necklace
Two positive crystals perfectly paired together creating one amazing necklace. (VERY Limited availability)
Tiny Moonstones are wire wrapped together creating a bohemian beaded chain paired with a gorgeous natural Aqua Chalcedony in the center. This piece will be a beautiful accessory to your Spring style and easily become a favorite.
Details:
   * Petite natural Moonstones are wire wrapped together with slightly oxidized sterling silver wire (giving a slight contrast)
   * A natural faceted elongated Aqua Chalcedony Size: About 1 1/2 inches
   * Genuine Sterling Silver Lobster Clasp
   * Your choice of length
Aqua Chalcedony: This crystal is known as the nurturing stone because of it's ability to help create composure and calmness. It also helps during meditation to allow one to reach higher realm. It provides calmness and peace during the process. Since it helps to remove and block negativity, it is able to remove almost all kinds of negative energy such as hostility, irritation, anger, obsession, and jealousy. These energies never lead to good things so when we have them removed, our lives will be more peaceful.
Stone of the Moon. Moonstone helps to bring about peace and balance. A highly feminine energy stone, it helps you regain power, inner balance and let go of negative energies.
**Please note, we only use 100% real natural gemstones in our designs. Natural stones will sometimes have inclusions which are in no way considered to be damaged or flawed. It's just how the stone naturally formed giving you a truly one of a kind piece of jewelry. It's the way nature made them and just the way we love them.♥



All jewelry includes complimentary gift packaging.

At Fabulous Creations, all our jewelry is handcrafted in the USA, inspired by the beauty of nature and made with love xo Shop with confidence from a company that has been shipping worldwide for 11 years.
Follow us on Instagram -----> FABULOUS CREATIONS JEWELRY