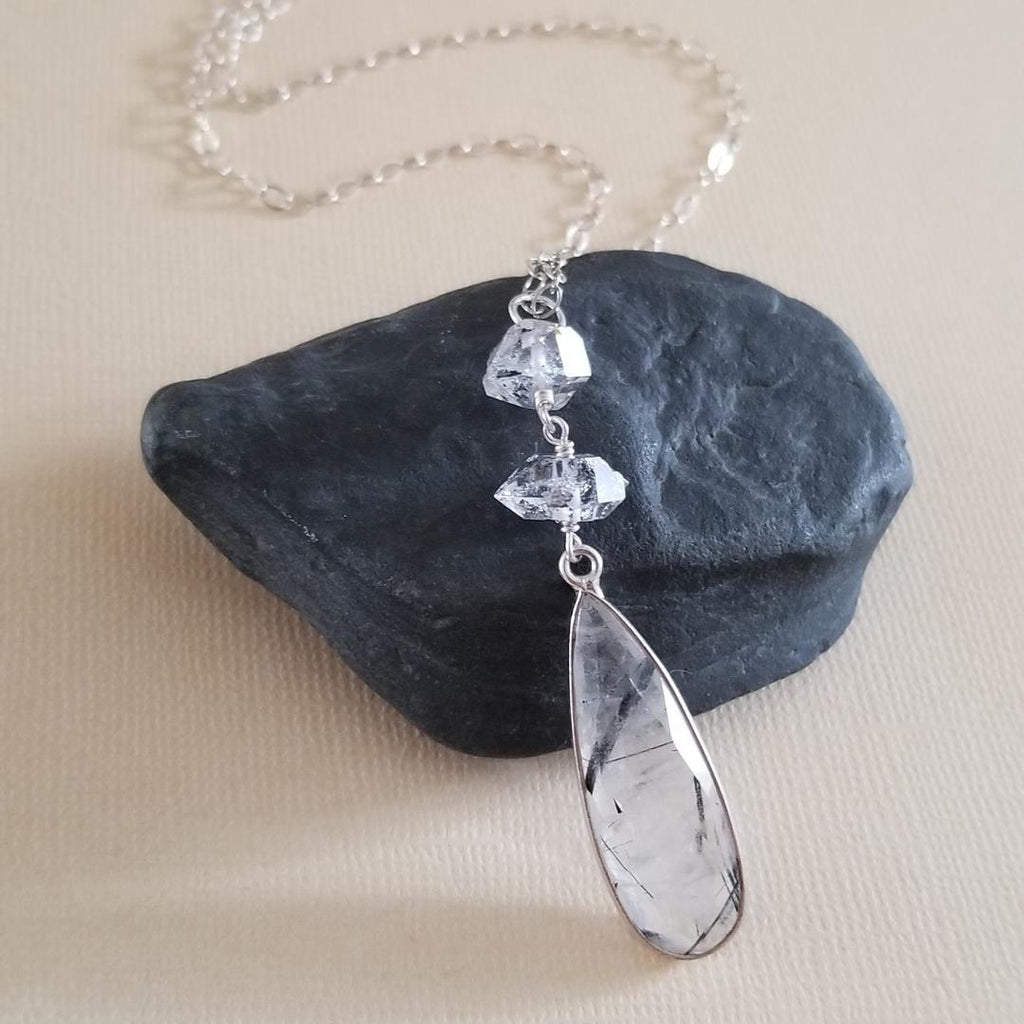 Black Rutilated Quartz and Raw Herkimer Diamonds Pendant Necklace
Make a unique statement without saying a word. This gorgeous necklace will have you getting never ending compliments.
Necklace features beautiful one of a kind Black Rutilated Quartz long teardrop and accented with Herkimer Diamond nuggets. This stunning pendant floats on shimmering Sterling Silver chain in your choice of length. Solid lobster claw clasp. Entire necklace is crafted in genuine 925 Sterling Silver (not plated) so you never need to worry about chipping, peeling or flaking and safe for all wearers.
Details:
* Natural Faceted Bezel Set Black Rutilated Quartz elongated Teardrop Stone Size about 34mm long and 11mm in width
* Raw Herkimer Diamonds
* Genuine 925 Sterling Silver Chain and Components
* Pendant measures approximately 2 1/2 inches long
* Timeless Piece
* Pairs Perfectly with Everything
Herkimer Diamonds are beautiful double-terminated quartz crystals found in Herkimer, New York as well as other parts of the world. These stunning gemstones are close to five hundred million years old. The crystals are magnificent works of nature, found in the rock, having a diamond-like geometrical shape. These beautiful quartz crystals are the high energy seekers of the crystal world. Unusually transparent with a brilliant sparkle, they manifest pure, solid Light and are powerful amplifiers of spiritual energy. As perfect conduits of the universal Life Force, they are exceptional healing crystals, and are used in meditations, dream and vision work.
Black Rutile Quartz is a fascinating type of quartz that contains needle-like black inclusions of rutile. This crystals helps you accept challenges as it opens new ways to live. Inspires you to leave or remove anything that no longer serves you. This sacred stone dissolves negative energies. The stone that never lets you miss a chance! As it offers a clear state of mind in which you will be able to analyze properly. Black Rutile Quartz is a powerful crystal that works on enhancing your intuition and wisdom and helping you overcome life challenges with success. This potent stone also helps you to be emotionally stronger, heals past hurts, and cleanses your soul.
**Please note, we only use 100% real natural gemstones in our designs. Natural stones will sometimes have inclusions which are in no way considered to be damaged or flawed. It's just how the stone naturally formed giving you a truly one of a kind piece of jewelry. It's the way nature made them and just the way we love them.♥
All jewelry includes complimentary gift packaging.
At Fabulous Creations, all our jewelry is handcrafted in the USA, inspired by the beauty of nature and made with love xo Shop with confidence from a company that has been shipping worldwide for over 12 years.
Stay up to date on the lastest! Be the first to know about new arrivals and get exclusive discounts.
SUBSCRIBE HERE---> https://www.fabulouscreations.org/pages/join-vip-mailing-list