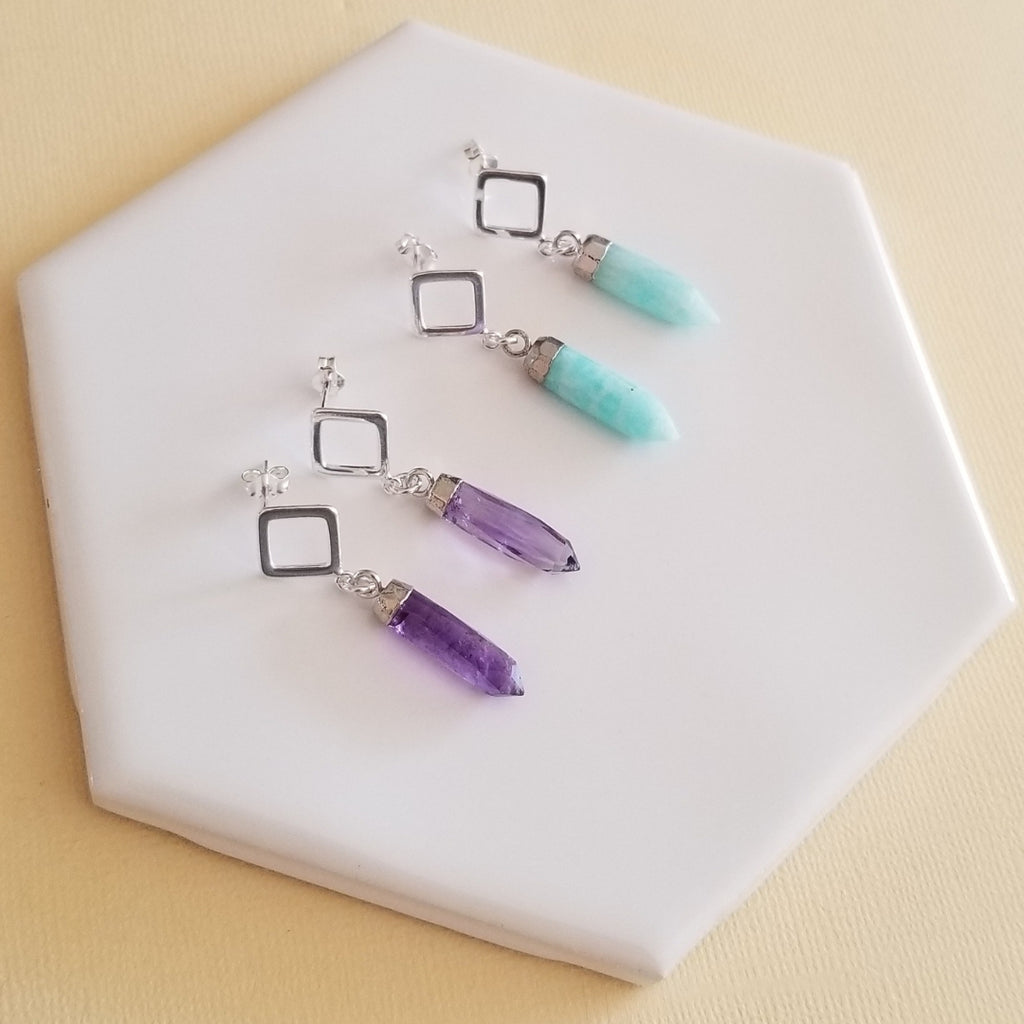 Sterling Silver Amethyst or Amazonite Earrings, Lightweight Gemstone Earrings for Women
Perfect everyday earrings that are lightweight and comfortable for all day wear and adds a pop of color to your look.
Solid Sterling Silver diamond shaped posts are accented with a natural raw Amethyst or Amazonite spike stone. Earrings measure approximately 1 1/2 inches.
Details:
* Genuine 925 Sterling Silver Diamond Shaped Ear Posts (not plated and will never chip, peel or flake off)
* Natural raw Amethyst or Amazonite Spike Stones Size about 18mm
* Earrings measure about 1 1/2 inches
* Great for everyday wear
* Makes a beautiful gift idea
Amazonite is a stone of peace, harmony and balance. Calms the heart and nerves and fills the air with positive energy. It is said to bestow truth, honor and integrity to its wearer. Associated with the throat chakra.
Amethyst, considered the most powerful and protective stone. It's a spiritual stone promoting tranquility and peace. A great meditation stone that calms mind, body and spirit. Deeply connected to the third eye chakra, the center of spirituality and intuition, and the crown chakra, the chakra that governs our connection to the universe.
**Please note, we only use 100% real natural gemstones in our designs. Natural stones will sometimes have inclusions which are in no way considered to be damaged or flawed. It's just how the stone naturally formed giving you a truly one of a kind piece of jewelry. It's the way nature made them and just the way we love them.♥
All jewelry includes complimentary gift packaging.
At Fabulous Creations, all our jewelry is handcrafted in the USA, inspired by the beauty of nature and made with love xo Shop with confidence from a company that has been shipping worldwide since 2010.