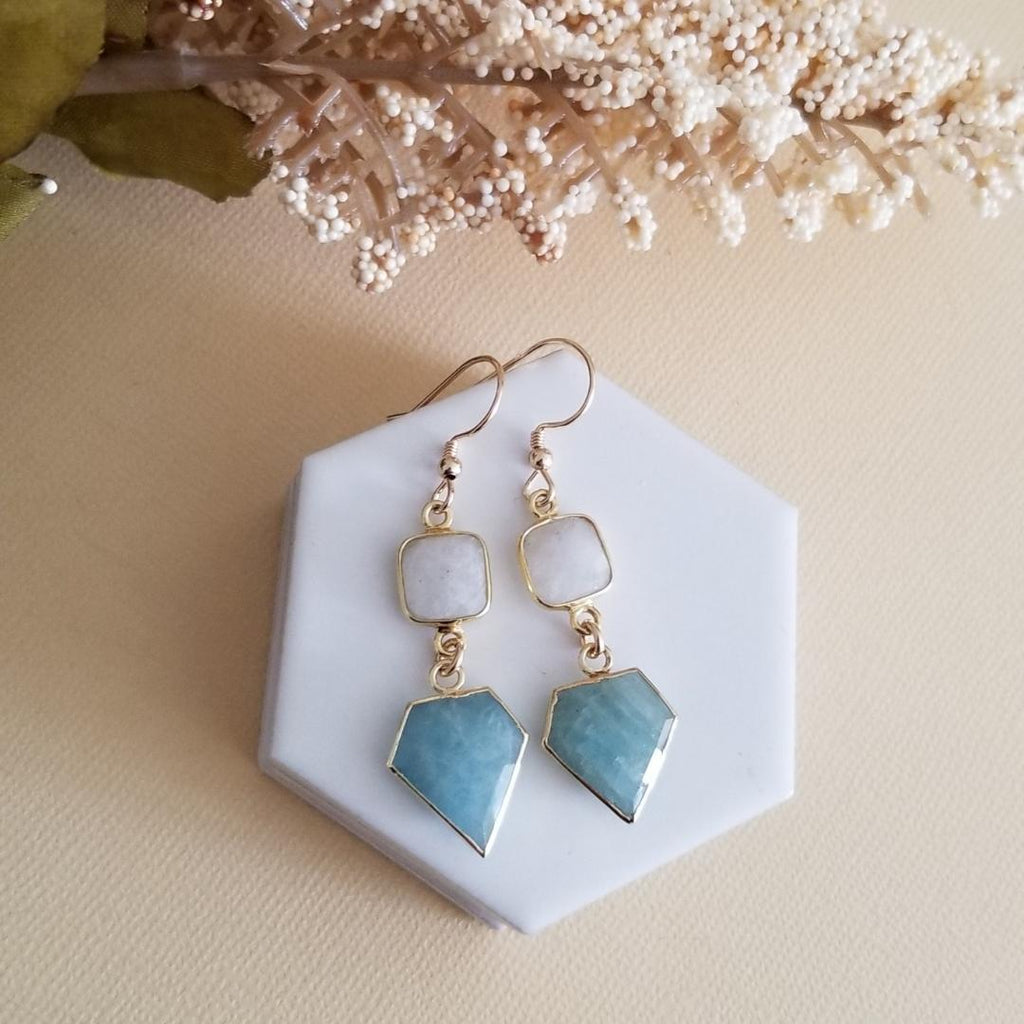 Natural Moonstone and Aquamarine Dangle Earrings
Make a statement in these gorgeous Moonstone and Aquamarine earrings. Two amazing crystals paired together in one beautiful pair of earrings.
These unique gemstone dangle earrings feature bezel set square shaped natural Moonstones that are perfectly paired with a unique diamond shaped raw Aquamarine. Each stone is natural so no two are exactly the same. Earrings measure about 1 3/4 inches. Ear wires are genuine Gold Filled, not plated and safe for all wearers.
Moonstone helps channel one's feminine side. Moonstone is all about healing, empowering, and rediscovering one's inner self and can be attributed to new beginnings. A stone that focuses on love, good fortune & protection. It exudes a glowing vitality that can re-energize the mind and body. Helps wash away negativity.
Aquamarine is a stone of enlightenment and spiritual awareness. Natural aquamarine can help soothe a stressed mind, comfort a troubled heart, clear discomfort, and wipe away the many stresses of life. Because of its connection with water it is used to cleanse the body and a great meditation stone.
Details:
* Natural Moonstone Square Stone Size: 9mm
* Raw Aquamarine Diamond Shaped Stone Size: 15mm
* Genuine Gold Filled Ear Wires (not plated)
* These earrings pair perfectly with any outfit day or night
* Earrings dangle about 1 3/4 inches
* Makes a beautiful gift
**Please note, we only use 100% real natural gemstones in our designs. Natural stones will sometimes have inclusions which are in no way considered to be damaged or flawed. It's just how the stone naturally formed giving you a truly one of a kind piece of jewelry. It's the way nature made them and just the way we love them.♥
All jewelry includes complimentary gift packaging.
At Fabulous Creations, all our jewelry is handcrafted in the USA, inspired by the beauty of nature and made with love xo Shop with confidence from a company that has been shipping worldwide for over 11 years.