What to Wear to Work in the Spring & Fall
April 16, 2019 14:53
Spring and Fall are two gorgeous seasons, but can sometimes make getting dressed in the morning a little tricky. You wake up and head out to work and it's 40 degrees, by lunchtime it's 65 and you realize what you wore wasn't the best choice. The best piece is a good ole cardigan. Cardigans are a must have fashion staple. You can get three out of the four season with a cardigan. In the Winter layer with a turtleneck or sweater underneath for warmth and in the Spring and Fall wear in the morning over a blouse, sheath dress, or short sleeve top.
I've linked some great cardigans that I think you'll love. They are priced great so you may want to pick up a few. Click the photo to take you directly to the product.
 This beautiful soft lightweight cardigan comes in 20 different colors. I just love handkerchief hem styling and priced under $20.00.
 Stripes are trending this Spring and this little stripped cardigan is so cute....I'm thinking vacation. And priced under $20.00.
 I love the multi blue coloring of this one. Over navy blue pants or a sheath dress for work and with jeans on the weekend. Longer trendy style and under $30.00.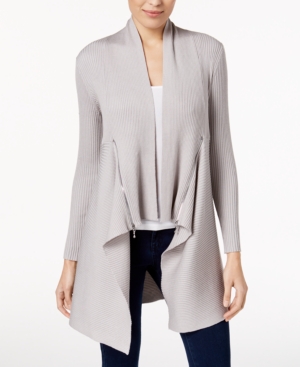 This piece from Macys is so chic! I love the unique design. This would look so gorgeous over a dress and the neutral color will match with everything in your closet.
 Another beautiful stripe and gorgeous color combination. This one is cotton and I think would be great for a cruise, as well as the office or date night.
 Ride the rainbow with this fun sherbet color cardigan. A great cardigan to brighten up your outfit. Open front lightweight knit with vertical stripes down the lapel and horizontal stripes throughout the bodice.  Under $20.00 and will go with absolutely everything!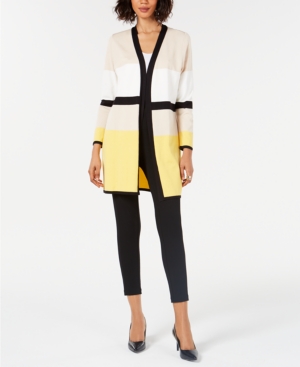 Great color block style in bright yellow to add a pop of color. So easy to style this one over black pants and top. Get an extra 20% off now at Macys. Click link to find this sweater in yellow and another great color as well.
 Loving this boho style floral. So pretty and feminine. Wear with a skirt, cropped pants for work or jeans on the weekend. Dress up or down for multiple looks. Available in so many colors and under $20.00
 Another really cute floral pattern. Lightweight and available in many other colors and floral pattern designs. Under $20.00.
Thanks so much for stopping by and I hope you got some good styling ideas. To be alerted of new posts and notified of great sales from department stores and boutiques, get on our VIP List and be the first to know.